Roger Beach is English born (west country farming family) and spent his early years growing up in West Africa where his father was involved in the building of the University in Ibadan, Nigeria. "I don't remember wearing a shirt for years when I was dashing about the bush as a small boy" he declares proudly.

Roger went to school in the West Country of England at Hazlegrove in Somerset, followed by King's Bruton and graduated with honours from Durham University reading Economics & Economic History

He qualified as a Chartered Management Accountant having started his business career as a graduate entrant to Cadbury's moving on to become Chief Accountant of Hertz in the UK. His career path then turned towards merchant banking in the City of London when he joined Montagu's - a stepping stone to becoming involved with various insurance and re-insurance ventures based principally in New York and Bermuda.

With his diversified and absorbing life and one spent living in different locations around the world he found it was the Karoo that drew him back time and again. Indeed it was during one of his many visits to South Africa in the 1990's when he met a leading wing shooting expert who alerted him to a Farm for sale in the high Karoo. He subsequently bought it together with the adjoining farm allowing him ownership of 13,000 hectares of the Highlands of the Karoo.



He now spends as much time as possible on the farm, now known as the Schanskraal Estate, together with his wife and son.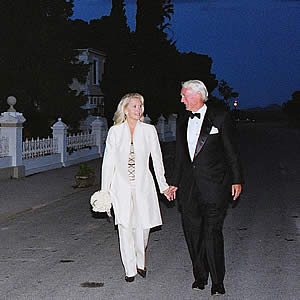 He met his wife Charlotte, in London in 2003. They shared a natural curiosity and sense of adventure and had similar interests. They were married in 2004 in Matjiesfontein in the Karoo - a tiny Victorian outpost of the British Empire rich in history. They boarded the elegant Rovos Rail Train at Cape Town on a Monday morning and at 6.00pm that evening were married in the Chapel at Matjiesfontein. "It was the most magical time, it was the most wonderful place to get married" they both declare.

Also English born, Charlotte was educated at Godstowe Preparatory School and then at Benenden School in Kent. Following periods spent studying and working in Switzerland and Rio de Janeiro, she pursued a career in the sale of residential property in London, becoming a Director of Savills and then setting up her own business as a London buying agent for overseas investors in prime residential property.

Like Roger she had a connection to Africa through her parents. After World War II, during which her father flew 3 tours of ops as a Lancaster bomber pilot earning a DFC* and her mother a member of the FANY organisation working for SOE at their headquarters in London, they flew down to South Africa as part of a 6 month honeymoon trip in their private plane (Auster Autocrat) settling in Durban for many years to live.

With their shared passion for the country and outdoor pursuits Roger and Charlotte spend a great deal of their time and energy pursuing their plans for Schanskraal.

Since Roger bought the two farms, derelict dwellings located on the Estate have been refurbished, including two historic principal buildings, now known as Burgersrust Lodge and the family home - The Country Manor, and a number of staff houses have been built. He also built a 1.3 x 1km cross air strip on the property and with his keen sense for conservation and preservation over the years has worked on an intensive programme to bring back the land by introducing planned grazing and cattle together with the creation of 3 large dams.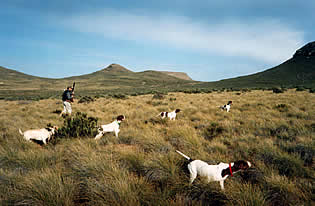 In addition to the farming of cattle and sheep, Schanskraal has many other facets including tourism, bird shooting and equestrian.

Visitors come from within South Africa and overseas to enjoy its many outdoor pursuits such as hiking, mountain trails and walks, canoeing, quadbiking, archery, horse riding, bird watching, fly fishing and game viewing and from April to July each year organised shooting parties come for the careful and structured shooting of the sought after Grey Wing, found on the Estate.
Schanskraal is also home to an equestrian centre, The Welbech Stud, established in 2003 by Roger Beach in conjunction with Leanne Wels, the breeder and trainer, where Arab horses are bred for endurance and where the Schanskraal FEI Endurance Ride is held each year. Recently they completed the installation of 3.6km of post and rail fencing to create five hectares of landscaped paddocks, a 60m showing arena and covered grandstand and in 2012 will be in a position of having trained Endurance horses for sale.

Roger and Charlotte have for some while now been pursuing and planning their latest dream for Schanskraal of creating a "First Class Sporting Estate in the Karoo".

Further sporting facilities would be designed and built, including a sporting clay shooting ground, a golf course and driving range, with the design emphasis always towards camouflaging them into the natural terrain to minimise any visual impact on the landscape.

The proposed area for the Sporting Estate and its accompanying country houses is discreet and occupies only 10% of the total size of Schanskraal. By offering plots of land for purchasers to construct a home to enjoy with their family and friends it would become "A place where like minded individuals can share in a unique lifestyle."

It is clear Roger and Charlotte feel very strongly about their beloved Schanksraal. "We are so privileged to be able to wake each morning in this very special part of the world, where we can genuinely delight in the opportunities that we see before us".